AMSTERDAM JACK HERER CUP
The finale of the first-ever Amsterdam Jack Herer Cup took place at the Hard Rock Cafe on Friday May 17th, 2019, in Amsterdam, The Netherlands.
"Elite" judging was on tap at the 30+ participating coffeeshops in Amsterdam and beyond the week of the finale.
Below is additional info including travel package and itinerary that was offered for the event.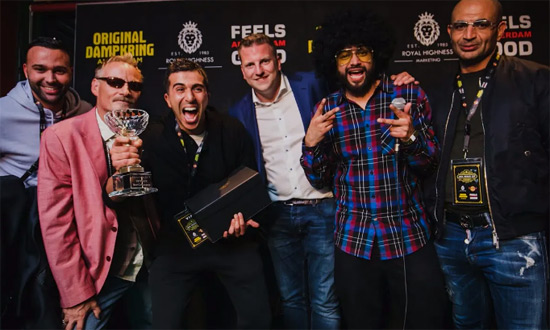 THE FOLLOWING COFFEESHOPS PARTICIPATED IN THE 2019 AMSTERDAM JACK HERER CUP:


Coffeeshop Dreamland (Haarlem)
Greenhouse Secret Farmers (The Hague)
Coffeeshop Espresso (Mijdrecht)
Yanks Coffeeshop (Zandvoort)
Coffeeshop Amsterdamned
Boerjongens BIJ
Boerjongens Coffeeshop Center
Boerjongens Coffeeshop West
Boerjongens Sloterdijk
Cannabismuseum Amsterdam
CBD Oil Shop Store - Highculture
Coffeeshop Catch 33


Coffeeshop Information Centre
Original Dampkring Coffeeshop
Coffeeshop Easy Times
Esmoking Shop
Coffeeshop Family First
Coffeeshop Feels Good
Fullmoon Smartshop
Coffeeshop Funky Munkey
Coffeeshop Get Down To It
Grey Area Coffeeshop
La Canna Headshop


Coffeeshop de Kroon
Coffeeshop LoFt
Coffeeshop Millennium
Coffeeshop Papillon
The Plug Coffeeshop
Coffeeshop Prix D'ami
Coffeeshop Relax
Coffeeshop De Republiek
Resin Coffeeshop
Coffeeshop Rusland
Coffeeshop Siberie
De Supermarkt