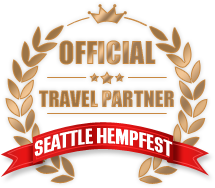 VIP PACKAGE
Airfare, Hotel, VIP Hempfest Pass
FLIGHT TO SEATTLE: Thursday August 16, 2018 (overseas flights may vary)
RETURN FLIGHT: Monday August 20
Our VIP Package to the 2018 Seattle Hempfest includes what you need to get the ball rolling! Airfare, Hotel, and VIP Hempfest Pass is yours for the 3-day event. 2018 will mark the 27th year running for the annual "Protestival" in one of America's great cities. Don't miss the world's BIGGEST hemp activism event - The 2017 Seattle Hempfest!