FREE Quote
Rates can change often. Get the current price from your city. CAREFULLY enter your e-mail.
Standard Package
Roundtrip Airfare to Seville Spain
5 Nights Hotel
Airport Meet & Greet
Airport to Hotel Transport
3-Day Expocanamo Ticket
Free City Tour
Custom packages also available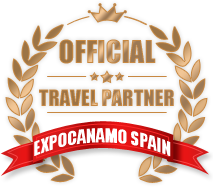 EXPERIENCE THE BEAUTIFUL CITY OF SEVILLE SPAIN AND ITS PREMIER CANNABIS EVENT - EXPOCANAMO!
Join us for the 2nd annual Expocanamo (Hemp Expo) in exotic Southern Spain!